4.11.0
Hue v4.11.0, released January 19th 2023
Hue is an open source SQL Cloud Assistant for querying Databases & Data Warehouses: gethue.com
Note: Hue 4.11 is the last release to support Python 2.7. New releases will be based on Python 3.8 and higher.
Summary
Ability to import and query Iceberg tables from Hue
Apache Iceberg is a high-performance table format and extends multifunction analytics to a petabyte scale for multi-cloud and hybrid use cases. You can now create an Iceberg table using the Hue Importer.
We've also updated the autocomplete and syntax checker for Hive and Impala to support the latest Iceberg syntax when you write queries.
For more information, see Creating Iceberg tables in Hue.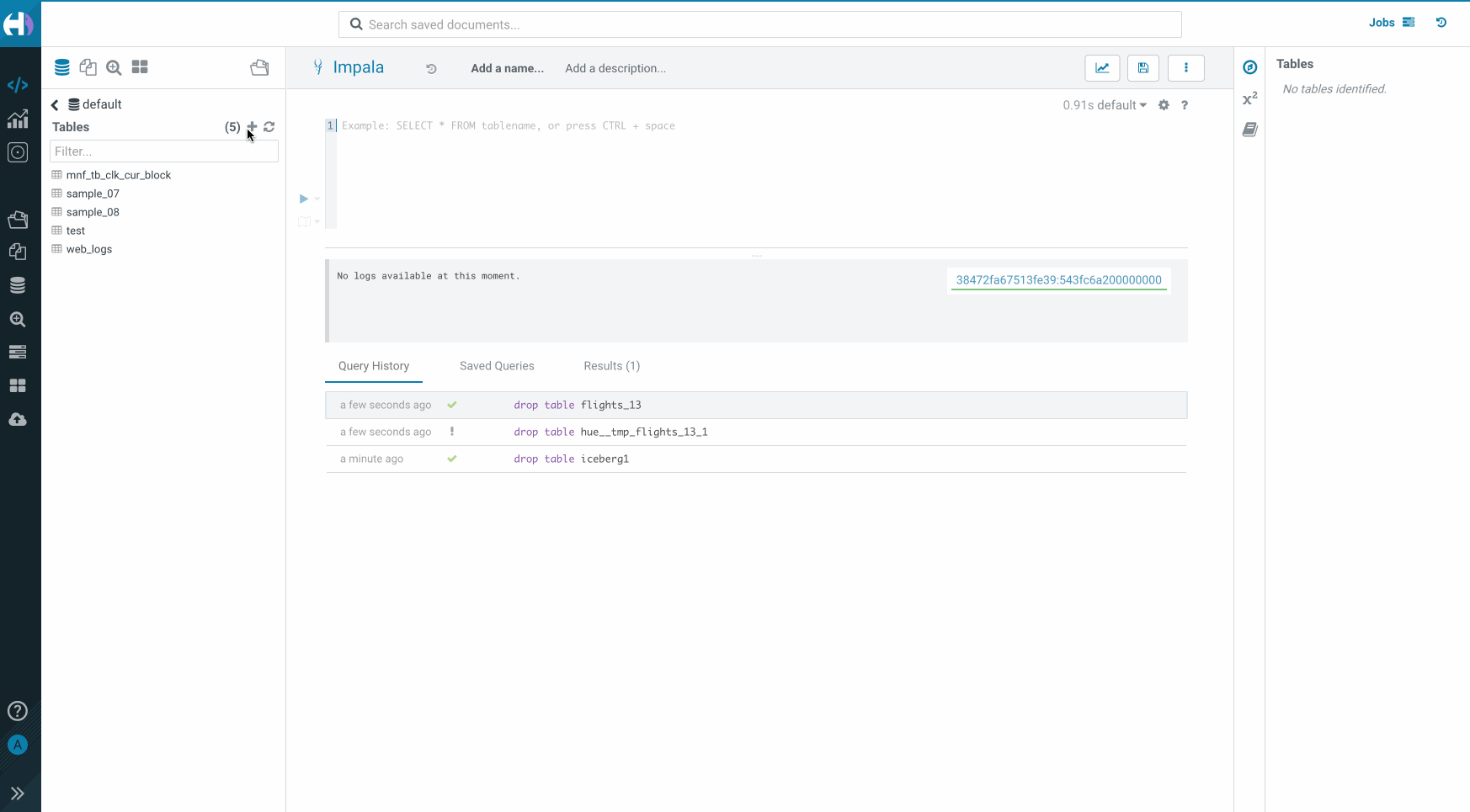 .
SparkSQL improvements
Hue leverages Apache Livy 3 to support Spark SQL queries in Hue on the Apache Spark 3 engine. Booting a new Livy session was slow, and took around 30-45s. Hue now caches the session details per user for a faster query experience. Caching session details also helps in autocompleting databases, tables, and column names, improving the search experience.
Hue automatically cleans up unused Livy sessions.
Hue has a dedicated autocomplete and syntax checker for Spark SQL. Hue supports all Spark SQL statement types, up-to-date with version 3.3.1.
We've also integrated the UDF library for Spark SQL in the autocomplete code, as well as in the right assist panel. The inline help includes all built-in functions of Spark SQL 3.3.1.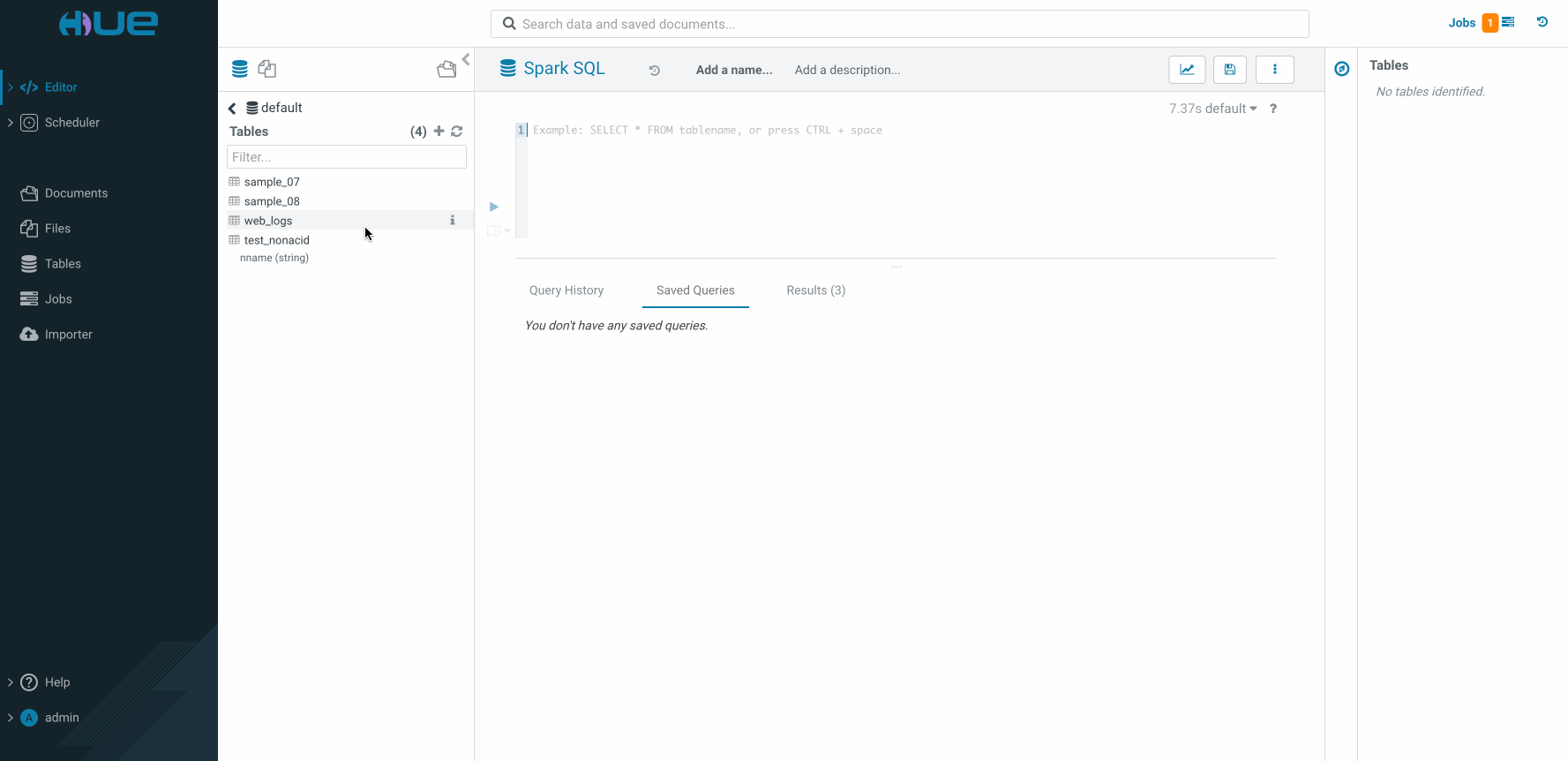 Added support for HPL/SQL
HPL/SQL is an Apache open source procedural extension for SQL for Hive users. It has its own grammar. It is included with Apache Hive from version 2.0.
You can enable the HPL/SQL dialect by adding the following lines in the desktop/conf/hue.ini configuration file:
    [notebook]
    [[interpreters]]
    [[[hplsql]]]
    name=Hplsql
    interface=hiveserver2

Read more about the HPL/SQL Support.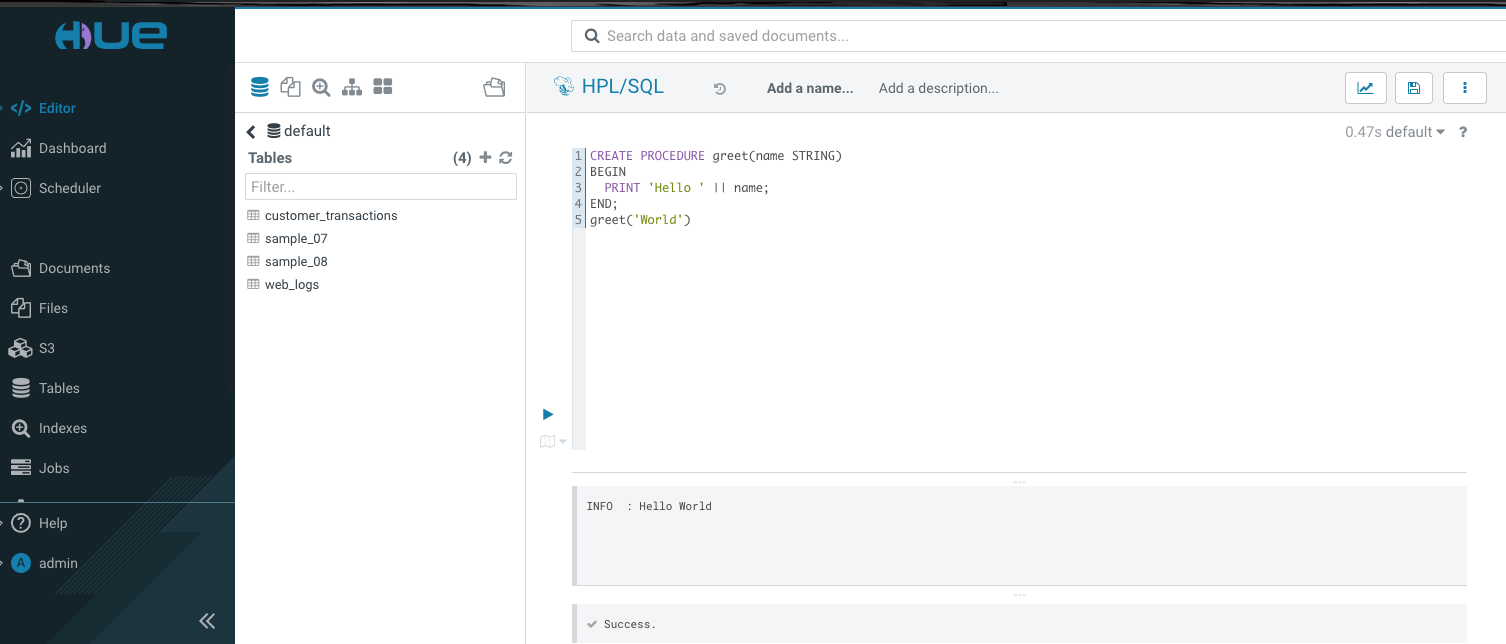 It has more than 650+ commits and 100+ bug fixes!
Go grab it and give it a spin!
Docker

docker run -it -p 8888:8888 gethue/hue:4.11.0


Kubernetes :

helm repo add gethue https://helm.gethue.com
helm repo update
helm install hue gethue/hue

Compatibility
Tested on CentOS versions 6.8+, Red Hat Enterprise Linux (RHEL 6, 7, 8), and Ubuntu 18.04 and 20.04.
Compatible with the two most recent versions of the following browsers:
Chrome
Firefox LTS
Safari
Microsoft Edge
Runs with Python 2.7 and 3.8.
List of commits
Contributors
This Hue release is made possible thanks to the contribution from:
10sr
Aaron Newton
Aaron Peddle
Aaron T. Myers
Abraham Elmahrek
Aditya Acharya
Adrian Yavorskyy
Ajay Jadhav
Akhil Naik
Akhil S Naik
Alex (posi) Newman
Alex Breshears
Alex Newman
Aliaksei
Alvin McNair
Ambreen Kazi
Amit Kabra
Amit S
Andrei Savu
Andrew Bayer
Andrew Yao
Andy Braslavskiy
Ann McCown
Antonio Bellezza
Ashu Pachauri
Asnaik HWX
Athithyaa Selvam
Atupal
Avindra Goolcharan
Ayush Goyal
Ben Bishop
Ben Gooley
Ben White
Bhargava Kalathuru
BirdZhang
Bjorn Alm
Björn Alm
Bruce Mitchener
Bruno Mahé
Chris Conner
Chris Stephens
Christopher Conner
Christopher McConnell
Christopherwq Conner
Craig Minihan
Daehan Kim
Derek Chen-Becker
Diego Sevilla Ruiz
Dominik Gehl
Duncan Buck
Eli Collins
Emmanuel Bessah
Enrico Berti
Eric Chen
Erick Tryzelaar
Ewan Higgs
Gabriel Machado
Gilad Wolff
Gleb Zhukov
Grzegorz Kokosiński
Guido Serra
Harsh
Harsh Gupta
Harsh J
Harshg999
Hector Acosta
Henry Robinson
Hoai-Thu Vuong
Igor Wiedler
Ilkka Turunen
Istvan
Ivan Dzikovsky
Ivan Orlov
Jack McCracken
Jaguar Xiong
Jakub Kukul
Jamie Davenport
Jarcek
Jason Killian
Jean-Francois Desjeans Gauthier
Jenny Kim
Joe Crobak
Joey Echeverria
Johan Ahlen
Johan Åhlén
Johan Åhlén
John Murray
Jon Natkins
Jordan Moore
Josh Walters
Justin Bradfield
Karissa McKelvey
Kevin Risden
Kevin Wang
Khwunchai Jaengsawang
Kostas Sakellis
Lars Francke
Li Jiahong
Linden Hillenbrand
Louis de Charsonville
Luca
Luca Natali
Luca Toscano
Luke Carmichael
Mahesh Balakrishnan
Marcus McLaughlin
Mariusz Strzelecki
Martin Grigorov
Martin Traverso
Martin Tzvetanov Grigorov
Mathias Rangel Wulff
Matías Javier Rossi
Maulik Shah
Max T
Michael Prim
Michal Ferlinski
Michalis Kongtongk
MoA
Mobin Ranjbar
Mykhailo Kysliuk
Naoki Takezoe
Nicolas Fouché
Nicolas Landier
Nidhi Bhat G
NikolayZhebet
Nils Braun
OOp001
Olaf Flebbe
Oli Steadman
Oren Mazor
Pala M Muthaia Chettiar
Patricia Sz
Patrick Carlson
Patrycja Szabłowska
Paul Battaglia
Paul McCaughtry
Peter Slawski
Philip Zeyliger
Piotr Ackermann
Prachi Poddar
Prakash Ranade
Prasad Mujumdar
Priyanka Chheda
Qi Xiao
Raghunandana S K
Rajat Garga
Rajeshwari
Reinaldo de Souza Jr
Rentao Wu
Renxia Wang
ReshmaFegade2022
Rick Bernotas
Ricky Saltzer
Robert Wipfel
Romain
Romain Rigaux
Roman Shaposhnik
Roohi
Roohi Syeda
Rui Pereira
Sai Chirravuri
Santiago Ciciliani
Scott Kahler
Sean Mackrory
Shahab Tajik
Shawarma
Shawn Van Ittersum
Shin So
Shrijeet
Shrijeet Paliwal
Shuo Diao
Siddhartha Sahu
Simon Beale
Simon Whittaker
Simon van der Veldt
Sreenath Somarajapuram
Stefano Palazzo
Stephanie Bodoff
Suhas Satish
Sungpeo Kook
TAK LON WU
TAKLON STEPHEN WU
Tamas Sule
Tatsuo Kawasaki
Taylor Ainsworth
Thai Bui
Thomas Aylott
Thomas Poepping
Thomas Tauber-Marshall
Tianjin Gu
Todd Lipcon
Tom Mulder
Tomas Coufal
Tone Lee
Vadim Markovtsev
VijayaKanchamreddy
Vinay
Wang, Xiaozhe
Weixia
Weixia Xu
William Bourque
Word
Xavier Morera
Xhxiong
Xiao Kang
Xingang Zhang
Ying Chen
Yixiao Lin
Yoer
Yuanhao
Yuanhao Lu
Yubi Lee
Yuriy Hupalo
Zach York
Zachary York
Zhang Bo
Zhang Ruiqiang
Zhihai Xu
abec
agl29
aig
airokey
alheio
alphaskade
antbell
arahuja
ayush.goyal
batou9150
bc Wong
bcwalrus
bschell
bwang
byungnam
cconner
cmconner156
cwalet
dbeech
denniszag
dependabot[bot]
e11it
ebessah
emmanuel
fatherfox
ganeshk
gdgt
gmsantos
gnieto
grundprinzip
happywind
hueadmin
ihacku
jdesjean
jeff.melching
jheyming
jkm
jojodaser
krish
linchan-ms
linwukang
lvziling
maiha
motta
mrmrs
oxpa
pat white
peddle
penggongkui
pkuwm
rainysia
raphi
rdeva
realslimstan777
richardantal
robrotheram
rpoluri
sachinunravel
sandeepreddy3647
sbaudoin
shobull
sky4star
skyyws
spaztic1215
sreenaths
stephbat
tabraiz12
theyaa
thinker0
tjphilpot
todaychi
travisle22
van Orlov
vinithra
voyageth
vybs
weixia
wilson
xq262144
ymping
ywheel
z-york
z00484332
zhang-jc
zhengkai
小龙哥
王添
白菜
鸿斌